Blog
Headless Content Management Systems FAQ.
Headless Content Management Systems are predicted to be the next big thing in digital and industry figures show that publishers are already moving away from traditional web CMS such as Wordpress and Drupal. However, tech-heavy arguments can make it difficult for marketers to decide whether it's right to go headless, so we decided to weigh up the pros and cons of losing your head.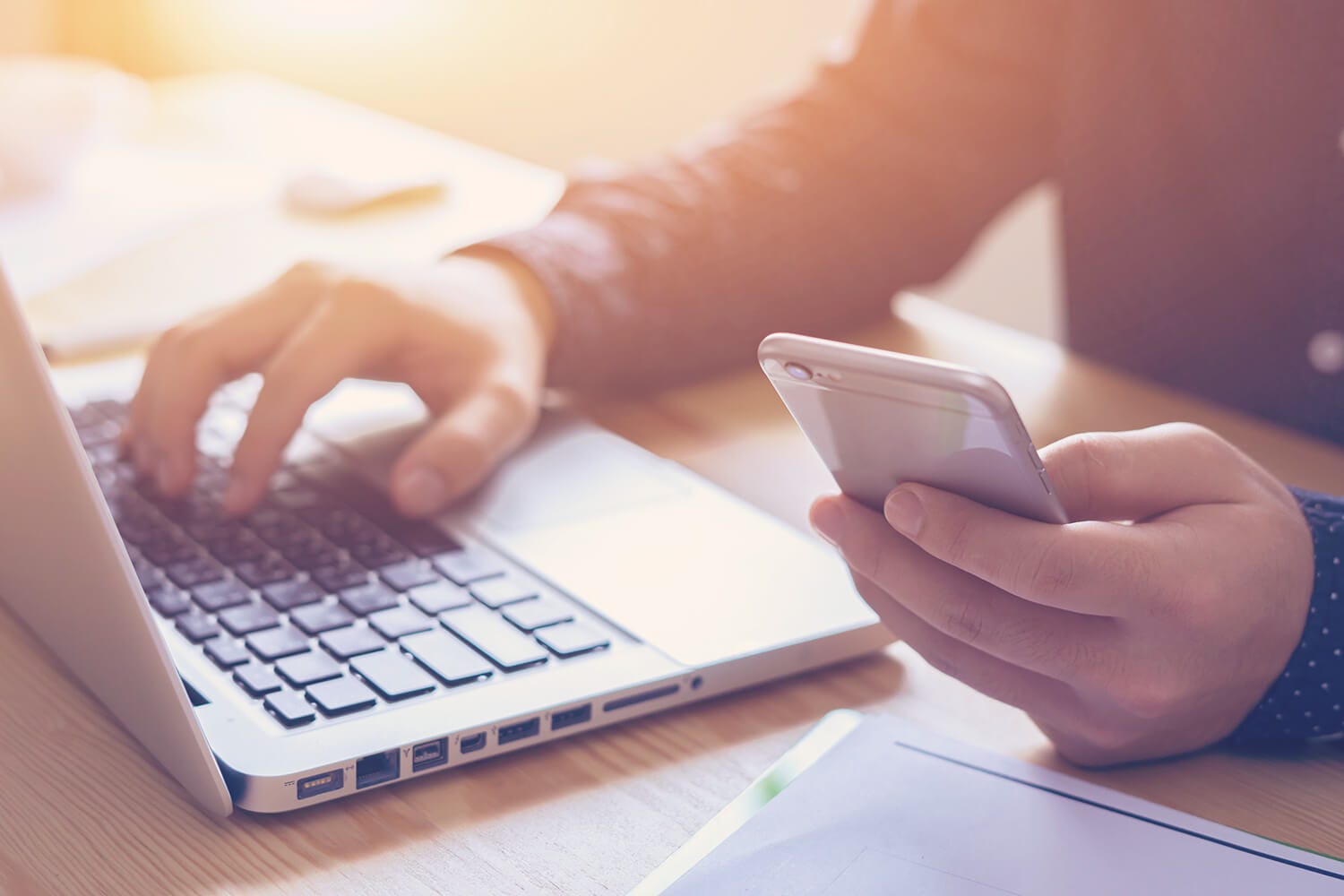 Why bother going multichannel?
In the not too distant past websites were built to be browsed on desktop devices; then along came mobile and publishers were forced to get responsive. Having a responsive website is a good start, but marketing opportunities are moving across channels via a diversity of connected devices from smart watches and smart speakers to mobile apps.
Statistics show that returns from multichannel marketing add-up to more than the sum of the parts, which means that if you aren't targeting multiple channels (from store to social) then you're missing out. Omnichannel is already big with the average US household owning 3.5 connected devices, but it's only going to get bigger with the Augmented and Virtual Reality markets predicted to be worth $162billion by 2020 (according to figures released by the International Data Corporation (IDC).
Omnichannel is here to stay and while publishers can't fight progress they can get ahead of the competition with a headless CMS.
What is a traditional CMS?
With a traditional Content Management System everything is managed in one place. Content editors can upload and create content without writing any code, giving them the freedom to enhance the way content is managed and presented to audiences. They are much simpler to set up and use and control is given to the marketeer using templates and themes. Even if a company has a development team, a traditional CMS might be the better option if the content creators want to manage the look of their content themselves, instead of relying on developers to do so.
So there are still many benefits to a traditional CMS and for many businesses this will prove to be the right choice. However, the march towards multichannel is unstoppable, some sectors are moving faster than others and businesses targeting tech-savvy demographics may already be feeling the constraints of their current CMS. 
Traditional Content Management Systems are built on top of hefty software platforms which means that publishers are tied to providers and switching platforms usually means going back to the drawing board and starting from scratch. With a headless CMS it's easier to switch solutions.
What is a cloud-first headless CMS?
A headless CMS provides an improved approach to future-proofing content management against emerging technologies by using an API to deliver content across different devices. As the name suggests the latest generation of Content Management Systems have done away with the 'head' and are no longer restricted by the constrains of a presentation layer.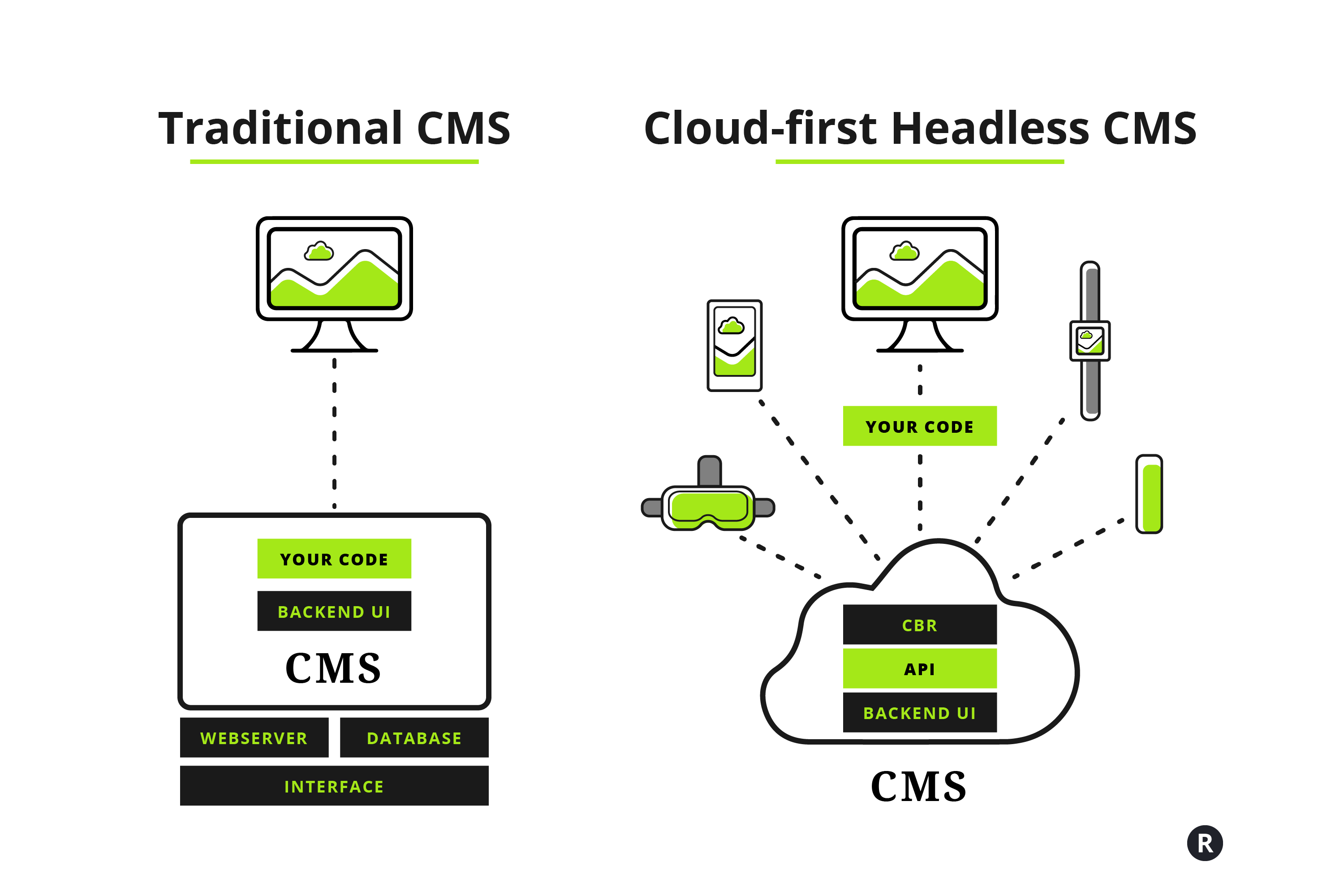 Cutting off the head allows publishers to take a 'content first' approach which means they won't have to wait for Development & Deployment and can deliver the same content across channels. Developers also benefit from a lighter weekly workload and being able to code in their native programming language.
What are the benefits of a cloud-first headless CMS?
The big selling points have already been mentioned, but headless boasts a host of additional business benefits:
Digital Transformation As the economy is increasingly being driven by digital, business models demand agility as they get reinvented.
Multichannel Delivery Content is being consumed across different channels and publishers need to make sure that it's appetising and engaging on every device.  
Accelerated Deployment Content producers can get ahead of schedule and publish on the fly without waiting for Development and Deployment.
Content Warehousing Storing all content in a centralised hub facilitates collaboration amongst providers prior to publication and serves as a single point of truth within a business.
Tighter Security Separating the CMS from the presentation layer makes it easier to hide and therefore less vulnerable to malicious attack. And because the provider is managing the CMS, flaws can quickly be spotted and fixes rolled out across solutions.
Native Language Developers can use the language they love whether they are fluent in .NET, JavaScript or PHP.
No More Upgrades With a cloud-based headless CMS you can wave goodbye to upgrades as you'll always be running on the latest version.
Scalable Solution Moving into the cloud means infinite scalability (and ultimate accessibility) as capacity flexes to meet demand even if things go viral.
Kentico Kontent are at the forefront of headless CMS development and are currently voted the Best Headless CMS Software provider by the tech reviewers at G2 Crowd, so Founder & CEO Petr Palas is well-placed to explain the benefits: "Headless CMS represents the biggest disruption to the CMS market in the past 15 years. We are seeing a growing number of organizations who look to consolidate their content into a single content hub and deliver it across multiple websites and mobile applications, as well as emerging channels such as chatbots, digital assistants, augmented or virtual reality and the Internet of Things."
When it comes to choosing the right Content Management System it's clear that one size doesn't fit all. Headless might not be for everyone, but there are clearly strong arguments for decoupling and headless is doubtless the direction of travel.
What will be next?
While the benefits of headless are clear and it addresses a lot of the technological challenges, there are other challenges that marketeers and content strategists face with producing, editing and publishing content. CMS products need to help with this process and provide a more complete view of the content and its performance. That's when Content-as-a-Service (Caas) will materialise and build on the headless architecture. In the future I believe we can expect vendors to start to take this path enabling businesses to deliver even better experiences for their customers.