Blog
Ridgeway deliver new eCommerce website for leading probiotics brand.
Ridgeway has launched a new eCommerce website for OptiBac Probiotics, the UK's most popular probiotics brand.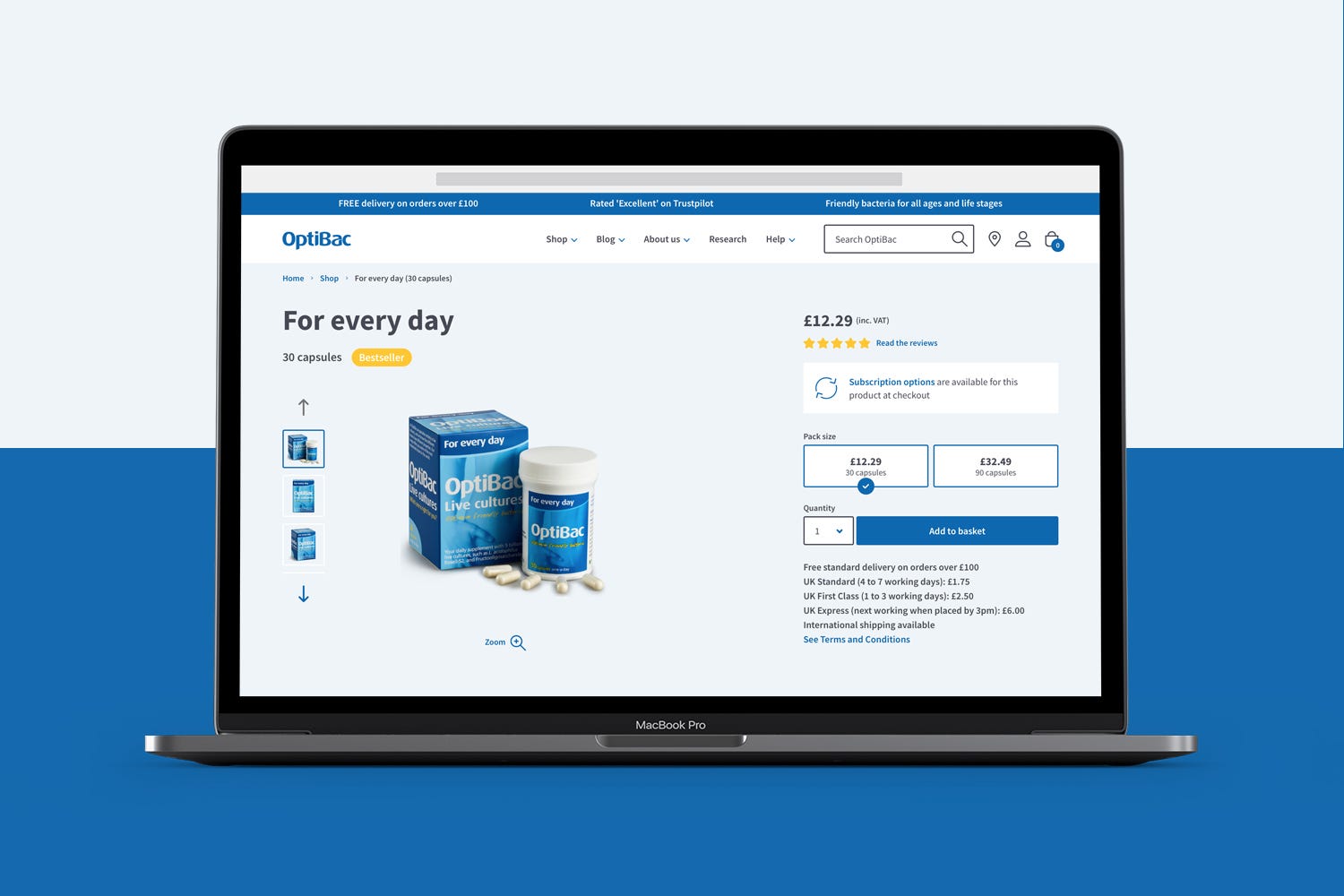 The new website, improves the customer journey, will drive increased conversion and repeat purchases, and enables the OptiBac Probiotics team to deliver more effective marketing communications.
The site is built in the Kentico EMS platform, which will give the marketing and eCommerce teams enhanced control via the flexible CMS to create and edit content, add new products and run promotions.
Having worked with Ridgeway previously, I know they are a digital agency that I can trust to deliver a website which will meet our business needs and provide a smooth and enjoyable experience for the customer.
OptiBac Probiotics has an increasing international focus and the new website will play a key role in delivering stronger sales both at home and abroad. OptiBac have initially launched the UK site before rolling out one consistent brand experience globally. 
With 60% of current visitors using a mobile device, the new website will deliver an improved customer journey with a focus on the mobile experience to increase mobile purchases. The new site will also support a wider range of carrier services, giving the customer more flexibility, as well as the functionality to allow customers to track their orders with the aim of reducing order-related calls to the customer services team.
The new website will support the cross-sell and up-sell of products by recommending related products to customers based on the products in their basket. In future development phases, the OptiBac Probiotics team plan to utilise the Kentico EMS functionality to explore content personalisation, marketing automation and lead nurturing to deliver a more tailored eCommerce experience for their customers.
OptiBac Probiotics selected Ridgeway because of their award-winning delivery of a number of ecommerce projects for leading brands including Twinings and Krispy Kreme using the Kentico platform. Kentico will offer OptiBac Probiotics the scalability and flexibility they require for future development and functionality, future-proofing their investment.
The OptiBac Probiotics team are excited about the new opportunities and flexibility the new site will offer and are looking forward to a long-term partnership with Ridgeway. Claire Blake, Digital Manager, OptiBac Probiotics commented:
"Having worked with Ridgeway previously, I know they are a digital agency that I can trust to deliver a website which will meet our business needs and provide a smooth and enjoyable experience for the customer.  I am looking forward to all the new opportunities our new website will provide."
About OptiBac Probiotics
OptiBac Probiotics is the UK & Ireland's most popular brand of probiotic supplements*. Specialising entirely in live cultures, and boasting some of the most researched strains in the world, OptiBac Probiotics are the experts in friendly bacteria. OptiBac Probiotics' award-winning supplements are rated Excellent on TrustPilot** and the brand is home to the widest range of probiotics.  There's something for everyone, whether you are looking to add some good bacteria to your daily routine or need something more specific, such as support whilst on antibiotics, travelling abroad or with intimate health. Visit www.optibacprobiotics.co.uk for more information or call 01264 363 193 for nutritional advice. Like OptiBac Probiotics on Facebook and follow on Instagram and Twitter @OptiBac.
*Hitwise July 2019 independent probiotics supplements **Trustpilot Rated 9.5/10 based on 1,940 reviews